Tropical Beach Paradise
The coastline of Mozambique stretches over a thousand kilometres and lines up a magnificent strand of tropical beaches.
Ilha de Mozambique, or Mozambique Island, is a tiny island off Northern Mozambique. It's a UNESCO World Heritage site and it's got a history that's something incredible. Almost close to four hundred years, Mozambique was under Portuguese rule, and prior to that, it was a  base for  Arab traders. The entire island is a kilometre squared and connects to the mainland via a concrete bridge. [amazon_link asins='1784770558,1786570432' template='ProductCarousel' store='exploremoth07-20' marketplace='US' link_id='9150ef54-41fa-11e8-ab7f-65138b75a8d6'] Vilanculos is a beach pathway into the  Bazaruto Archipelago of islands as well as the renowned underwater national park in Mozambique. [amazon_link asins='0190847425,1909384925' template='ProductCarousel' store='exploremoth07-20' marketplace='US' link_id='9d1250d3-41fb-11e8-b86a-c7b02c7a4284'] One of the best greatest things to do here is to catch a ride on a traditional sailing dhow and go for a glide through the Archipelago. This is seriously one of the most stunning places on or off the African continent. An island journey of awesome azure waters,  palm trees, sandy beaches and coral reefs. The marine reserve is one of the biggest achievements for Mozambique and plays an important role in marine conservation worldwide.  It is best to scuba dive to experience the best of it. In fact, the Bazaruto Archipelago offers some of the best diving in the world. The dive sites are never over crowded l. The water is crystal clear and there are protected coral reefs  buzzing with hump back whales, dolphins, hump back sharks,  spotted eagle rays, manta, turtles and more
Ponta d'Ouro.
Ponta d'Ouro Bay located in the  Southern part of Mozambique. There is a small village but filled with tourist camps. It is very popular with fishermen and beach holidayers and surfers. Apparently, the Ponto has perfect waves. Like other spots in Mozambique, the diving experience is awesome here. Underwater there are more coral reefs making beautiful patterns with a flow of colourful fish that pass through. Mainly you'll want to go there for the experience of swimming with dolphins. This is where the group is that does snorkelling trips out to swim with the dolphins. Those that conduct dolphin tours are passionate about conservation. They will inform you how dolphins are threatened and you gain marine conservation insight while having incredible experiences. You have to drive into Ponta with a 4 x 4, no other way. It stays parked in the safe parking at Kosi Bay where many people leave their cars.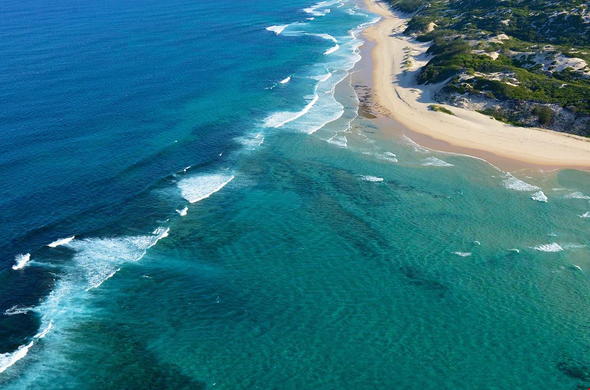 Although most people go for the beaches, there is some beautiful old architecture in Mozambique. The urban area's quite small and concentrated with wide avenues, old trees and Mediterranean style architecture. It is an attractive capital city in Africa with an active vibe with cafes and supermarkets.
Cuisine Culture and where to Stay
Maputo is the important harbour, it is 90 kilometres from the South African border. There's a wide range of accommodation, from the mega-luxury to bed and breakfasts and backpacking lodges.
Cuisine mainly includes seafood. And the mix of cooking styles in the Portuguese style with lots of seafood. They have maize-meal,  rice and millet dishes with hot stews - typical of the African diet. Curries are a favourite named, 'Caril'. So if it's exotic, cultural stuff you want, this is a place to visit. It's a magic mix of old Portuguese and old Muslim architecture. Basically, it's divided into two halves. There's the old Stone Town in the North and Reed Town in the South. If you are planning a trip to Mozambique, please be a responsible tourist. Don't drive on the beach. It is illegal and it destroys natural habitats. Dunes were destroyed as a result of driving that was irresponsible. Do not litter. If you are camping, bring along some bin bags and dispose of the rubbish in a  proper way. Don't buy shells, corals, juvenile or reef fish. If you dive, do not touch or grab marine life. Some species are very friendly, but if you touch them or feed them you can change their behaviour. And remember, the coral reefs are precious. Holding onto the reef, hitting it or swiping fins over it kills the coral. It won't just grow back! Global tourism is a key threat to ecologically sensitive areas. So let's protect our beautiful places. Be the responsible tourist and make a difference!
Join in and exploremotherlandafrica