---
However little food we have, we'll share it even if it's only one locust. -- Madagascar Proverb
Daily life on the
island of Madagascar
is about food. It is the centre of conversation activity and rhythm. Preparing food is a lengthy communal affair. Food in Madagascar is about sharing, and the Malagasy love to share. Cuisine from Madagascar is delicious but uncomplicated. Basic ingredients and equipment.  There is never  'nothing to eat ' as a meal can easily be rustled up from a few ingredients. Nothing gets wasted. Food is valuable and appreciated and takes up seventy percent of household incomes and meals are prepared lovingly. Food is still in natural forms and cooked over open-wood charcoal.
Karibu  (Welcome) to  Malagasy style meals
Madagascar cuisine has an interesting blend of influences from the French, African,Indian and Arabic cultures. The staple is gigantic servings of rice. Typical flavors are generous ginger,garlic,onion vanilla,curry powder,lime juice and local vegetables.
Ranovola
An acquired Malagasy taste, it is a type of tea made with burnt rice. The bottom of rice pots is mixed in water to create an interesting refreshment.
2. Voanjobory Sy Henakisoa
This traditional Madagascar dish was part of a feast during the Merina Royal festival. It is eaten at homes and restaurants all over the country.
The dish is a serving of Bambara groundnuts with chopped pork served with rice.
Koba Akondro
This dessert is made from honey, banana, and peanuts and then wrapped in banana leaves and can be found anywhere as street food.
Lasary
A common dish serves to complement main dishes. It is a mixture of cabbage, green beans, carrots and onions in a mild vinaigrette. Lasary refers to pickled lemon and mangoes in cities
Ravimbomanga sy patsamena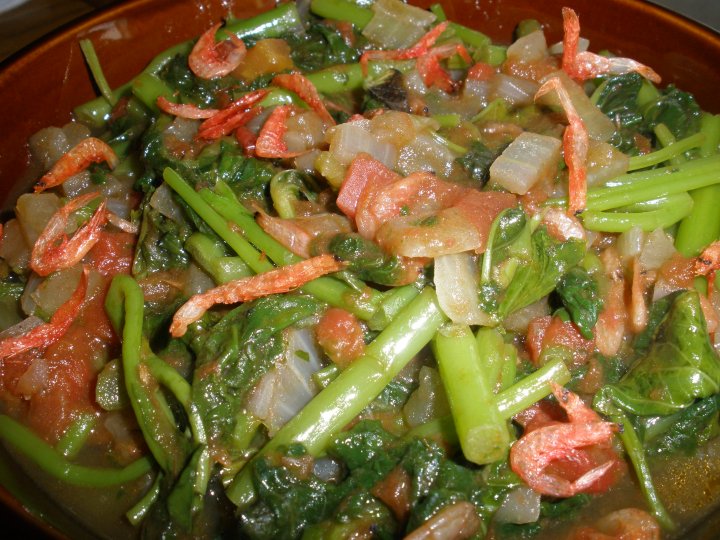 Potato leaves are served in a stew with dried shrimp with tomato sauce and beef in a heap of rice
Foza sy hena-kisoa
This dish is a combination of crab, lobster and a stir-fry of pork with ginger, lime juice and fresh greens served the Malagasy way with a heap of rice.
Akoho sy voanio
A popular Malagasy meal found in most restaurants. It includes tomatoes, coconut milk, onion, chicken, ginger, garlic and some ground pepper. Welcome to the
taste of Madagascar
#ExploreMotherland Africa
The food which is prepared has no master. - Malagasy Proverb