Many are eager to explore South Africa, the diverse colorful nation with tons to rave about from natural beauty,people,world cities and unique wildlife.
Cape Town
deservingly captures global attention, yet South Africa has much more to offer. There are hundreds of destinations to explore in South Africa. Here are ten highlights to note. [amazon_link asins='1101878134,1640970142' template='ProductCarousel' store='exploremoth07-20' marketplace='US' link_id='c714e2a1-4396-11e8-868c-4bc9c702c29d']
Cape Agulhas
---
Cape  Agulhas
is the tip of Africa, where our two great oceans meet, a stone plaque to mark it is placed on the beach.
2.  Table Mountain
---
Any trip to Cape Town has an activity that all must step up to. A journey to the iconic Table Mountain. An unforgettable landmark to set foot on. You get to view the sea and the city from a 1085m height. The flat top summit has an easy route with the
Table Mountain Cableway
. It travels up at 10 metres per second. Table mountain has much more to explore with indigenous plants and animals and a nature reserve.
3. Maboneng Precinct- Johannesburg
---
Maboneng means the  "place of light", and that is what the innovative section, the
Maboneng Precinct
, has become amidst a concrete jungle of red brick construction and warehouse jumbles. The graffiti spilt sidewalks reach an urban vibe, the hippest urban regeneration spot - a cosmopolitan and arty joint. Joburg is re-identifying itself from the slaps of being a wasteland of lost wanderers.
 one of South Africa's hippest urban enclaves and an incredible example of urban regeneration." BBC TRAVEL
4. Klein Karoo - Cango Caves
---
The Cango Caves
are as popular as the ostriches in Oudtshoorn 30 km away. The caves cut from limestone are twenty million years old. The Caves are listed as one of the great natural wonders of the world. The hidden stalagmite chambers inhabited in the stone ages make up the largest cave system in Africa. There are amazing subterranean caverns open to the public for an unforgettable adventure through tunnels and chambers. One highlight is 'Cleopatras Needle', a formation that is 9m high and over
150000 years old.
5. Golden Gate Highlands National Park
---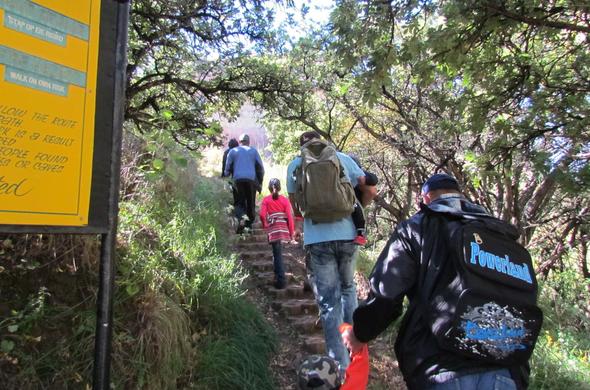 The name of the park.
'Golden' Gate  Highlands National Park
is linked to the golden glittering sandstone cliffs. Located in the Northern Freee State 120km from Bloemfontein, the Maluti  Mountains nestle the park, home to various wildlife including wildebeest and zebra as well as rare birds like the bearded vulture and bald ibis. There is an abundance of activity from horseriding to nature trails and game viewing.
6. Midlands Meander
---
The most recognizable meander in Kwa Zulu Natal offers many discovery routes through the scenic
Midlands Meander
of Natal. An hour away from Durban, the Meander is 80kms of entertainment, arts and crafts. places to see, shops and over 160 places to sleep in. Encounter craftsmen from herb growers to cheese producers weavers and craft beer, artists, potters, carvers and much more.A haven for watersports enthusiasts for sailing, canoeing, boating and windsurfing near the Midmar Dam.
7. Kgalagadi Transfrontier Park
---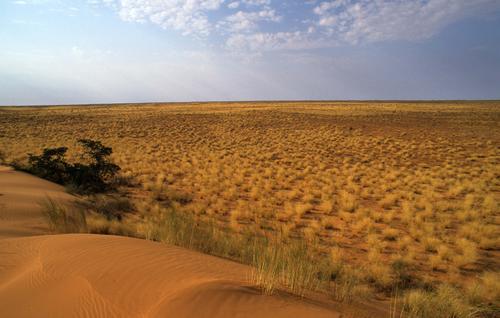 Africa's first transborder conservation area between Botswana and South Africa. It is in the Northern Cape, 250km from Upington, the
Kgalagadi Park
is the joining of Botswana's Gemsbok National Park and South Africa's Kalahari GemsbokPark. The combined protected area is thirty-eight thousand square kilometres.  In South Africa, part of nine thousand six hundred square kilometres covers the Southern part of the Kalahari desert which is uninhabited.  It offers great opportunities for game viewing of endangered and rare species.
8. Supertubes Jeffreys Bay
---
---
Jeffreys Bay, sixty-five kilometres from Port Elizabeth is a top surfing destination and has perfect and predictable right-hand Supertube point breaks The high-speed waves reach 3 metres varying in length up to 300m. The best waves are in winter between May and the middle of September.
9. Moses Mabhida Stadium
---
The
Moses Mabhida
stadium is popular for hosting international music concerts and sports.It is a tourist attraction with many other linked activities. It has a skycar taking visitors to the arch of the stadium, there is also the 500 step adventure walk up to the 106m arch to get the ultimate panoramic view of the sea and the city. Then there is the Big Rush, Big Swing, a stadium swing that plunges off the arch. There are restaurants and shopping boutiques on the property as well.
10. Sun City
---
---
Sun City
, an hour and a half away from Johannesburg is a popular complex for entertainment and family getaways. Hotels coupled with a popular golf course is a drawcard for tourists and locals. Many regularly flock here to enjoy the Valley of Waves, the casino for gambling and game viewing at the Pilanesberg National Park nearby. The Lost city Palace offers a five-star Africa holiday and has cabanas, game lodges and establishments for camping nearby. Welcome to the tastes of Africa.  
#ExploreMotherlandAfrica